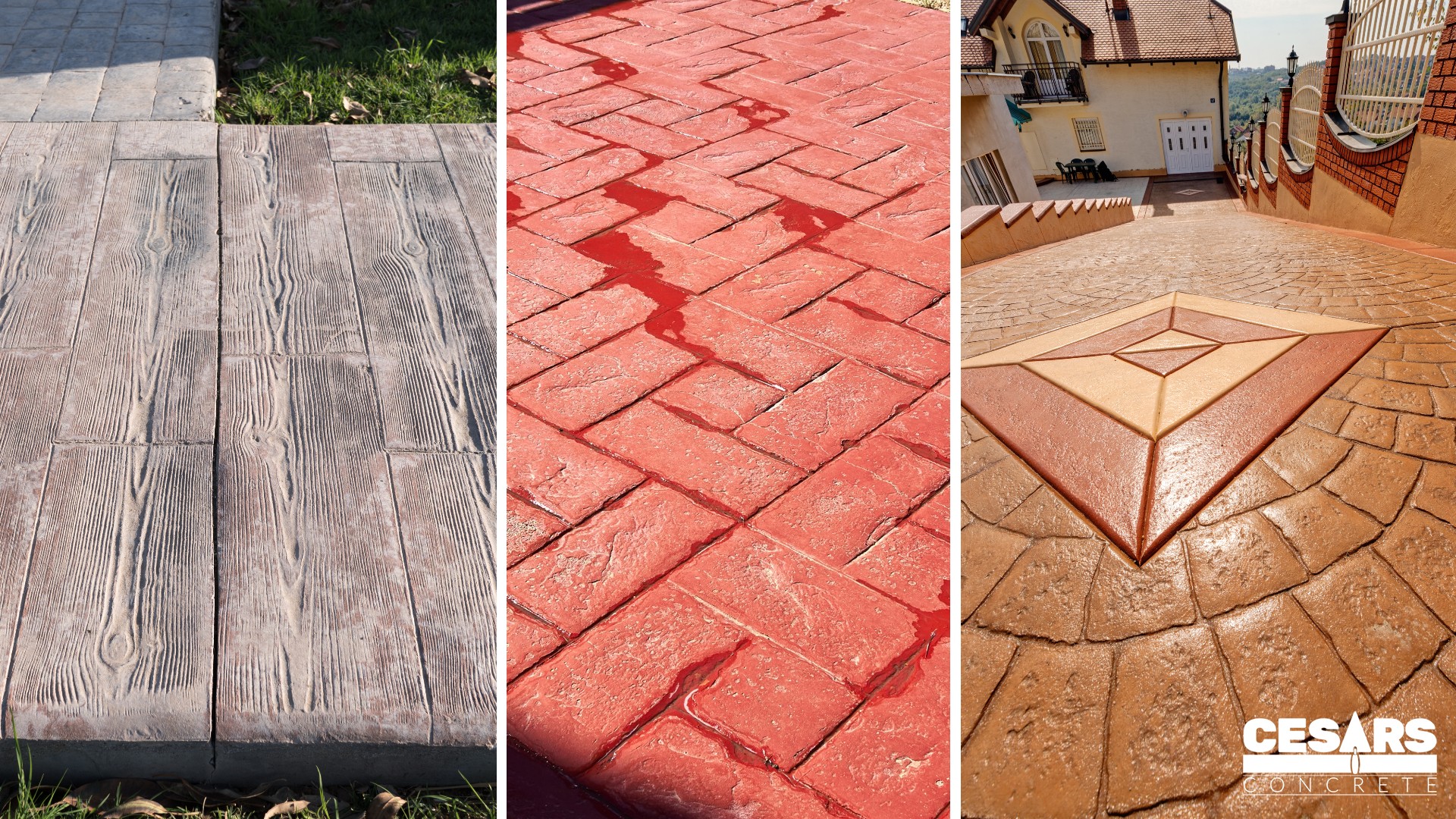 Just like kitchen designs and bathroom colors, concrete patios and driveways can become old and outdated. There was a time when a green or yellow-themed bathroom was all of the rage. But, of course, that would have been back in the 1970s. Using those bold colors in your bathroom now would draw a lot of negative attention. Perhaps one day those colors will become popular once again. But for now, paint your bathroom if it is still stuck in the 1970s. If you have a stamped concrete patio or driveway, you might wonder if it is outdated. Well, that depends a lot on just who you ask.
Stamped Concrete is Not Outdated
Stamping is one of the most popular and efficient ways to decorate your concrete projects. For years, homeowners have utilized stamped concrete for unique and beautiful patios, walkways, and driveways. Stamped concrete is the way to go if you want a decorative patio that reflects your personality and flows with the landscaping theme of your outdoor space.
RELATED: Enhance Your Patio With Concrete Stamping
While stamped concrete might not be outdated, some of the patterns certainly can be. Some of the earthy-colored stamped concrete patterns from years ago have become quite common and considered outdated. What is trending at the moment are Roman slate designs, grand ashlar, and Italian slate.
As far as driveways are concerned, a seamless texture remains very popular among homeowners. Additionally, it is not necessary to have your entire driveway stamped; stamped borders are all of the rage right now.
Stamped Concrete is Outdated
Some people believe that stamped concrete was a fad that ended long ago, making a stamped concrete patio outdated. The bottom line is that if you think your stamped patio or driveway looks outdated, then it probably is.
You can choose to replace your outdated stamped patio or driveway with a more modern and updated look. At the moment, a clean and minimalist look is in. You can also make a statement with a curve or other design element on your patio or driveway.
What's Trending Right Now
Marrying two types of stamped patterns is a popular trend right now. Often, the patterns will come in different colors as well. For example, you could pair a light slate design with a dark red brick pattern for a unique and modern look. You can even use two types of materials for your driveway or patio. After all, there is no law stating that you can't combine stamped concrete with pavers or with stone.
Is Stamped Concrete Right For You?
Stamped concrete remains a popular and beautiful option for cement applications. If you are thinking about having your patio or driveway replaced, stamped concrete is still a great choice. Concrete is durable, functional, and costs less than some other materials; in fact, a new stamped concrete driveway or patio will transform the way your home looks.
If you find yourself with a case of the blues because your patio is old and boring, a stamped patio will have you making excuses to spend more time outdoors. If your backyard is in need of a jumpstart, a stamped concrete patio will give it a revamped look. There are thousands of patterns and colors from which to choose, so you will wind up with a look that is one-of-a-kind.
It Might Not Be Right For You
Whether you think stamped concrete is outdated or not, it just might not be the look you are searching for, and that is alright. Stamped concrete looks amazing, but we also know that it's not for everyone. You might be totally happy with colored concrete or just a traditional slab for your patio or driveway. The minimalist look is a trend that never ends.
If you are in the market for a new patio or driveway and not quite sure what you want to do, we are here to help. Contact us, and we are more than happy to discuss your wants and desires. In time, we are sure that we will come up with a solution that will have you excited about your concrete project.